homemade vegan chocolate "kiss"-cakes for my valentine.
In the Kitchen: The Making-of Chewy Amaretti Cookies (with chocolate ganache)
Every December, some wildly cool friends of ours host an Annual Christmas Cookie Exchange in the Lower East Side. It's an evening of cookies of course, but also music, sequins, spiked eggnog and all around holiday cheer. It's one of my favorite Christmas traditions in New York, but there's just one thing… I've come to make it very competitive in my mind.  
A few weeks before the event I feel the burden of success on my shoulders. Because in years past, I've had a few crowd pleasers. Well, just one really, but everyone still remembers it! (red velvet whoopie pies are the way to make friends) Anyway, there are so many recipes to chose from and I need to know which one will be the show-stopper.

So I've developed a set of criteria for bringing holiday cookies to a party. 
Seasonality. Is this an appropriate flavor for the holiday? Will it taste like Christmas and incite feelings of nostalgia? 
Taste. Will this cookie have mass appeal? And more importantly, will it pique the interest of New York City foodies? You have to consider what will wow and satisfy your audience. 
Display. If it doesn't draw them in, it's not working hard enough. Design matters in all aspects of life, including cookies.
Size. This is a recent addition, but an important one. A night indulging in cookies isn't very forgiving on one's waistline, but as I see it, smaller cookies don't really count as calories anyway.
Degree of difficulty. This requires you to get real with who you are and what you are about. It might seem impressive to make something elaborate but think about how you'll source the ingredients and actually carry out the recipe. Make what you can handle, but make it the best it could ever be.
This year I made Chewy Amaretti Cookies, courtesy of the Smitten Kitchen, and with the help of my dear friend, Eric. I was intrigued by their similarity to the oh-so-trendy macaron, and with very few ingredients required. While the flavor didn't scream Christmas, the almond chocolate combo is familiar to many this time of year. Plus, they are the perfect bite-size portion.
They were incredibly easy to make, you just need a little patience when creating the tiny rounds on your baking sheet. And you don't need a pastry bag. Just cut the edge of a ziplock bag and, viola! It might be good to implement this method when spreading the chocolate ganache. Thankfully I had Eric as my handy pastry "sous chef." He just spread it with a spoon! :)
Overall, I think I did A-OK at the cookie party, I was even applauded for serving the perfect-sized treat. Yay!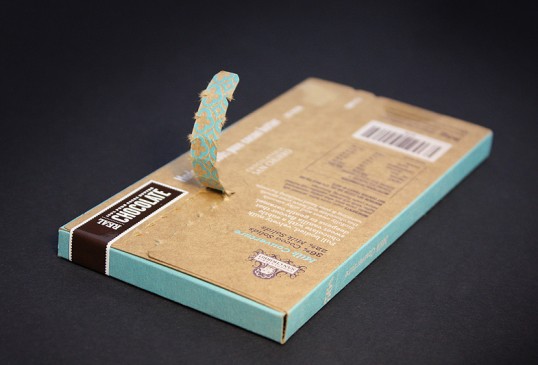 San Churro's Real Chocolate, Designed by Studio Alto 
The design response was to create something artisan, hand crafted and most importantly, REAL to reflect the product itself. The result being a range of products each with its own individual type execution and colour-way printed on 100% recycled card